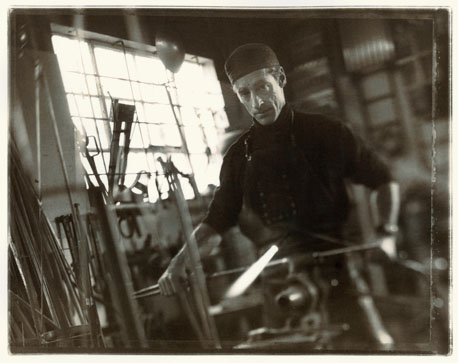 Jerry Coe, founder of Coe Studios, is a sculptural metalsmith who works in bronze using traditional blacksmithing methods. He began studying traditional blacksmithing while an apprentice restorer, wheelwright, and smith at Yosemite National Park's Pioneer History Center. Jerry opened his Berkeley studio in 1984 and extended his metalworking disciplines to create Coe Studios Architectural Lighting in 1989. A lifelong mountaineer and world traveler, his artistic inspiration comes from his fascination with nature and from his encounters with traditional artisans in farflung corners of the globe.
---
Coe Studios proudly creates custom bronze lighting and architecture using traditional blacksmithing techniques. We accommodate a wide range of styles and aesthetics.
---
Coe Studios is a member of he Bay Area Green Business Program, and of the International Dark Sky Association, an organization helping to reduce light pollution of the night sky. All of our energy costs are made "Climate Neutral" by our local power company. We care deeply about the environment and work hard to support organizations that nurture our planet.
---
Coe Studios Lighting Fixtures have been featured in magazines including Elle Decor, Metropolitan Home, Arts and Crafts Homes, Natural Home and Garden, Marie Engelbreidt's Home Companion, Old House Interiors and Style 1900 Magazine and made an appearance on HGTV's "Curb Appeal."

---
Coe Studios lighting products can be modified to suit certain installations. We welcome inquiries from architects, designers, and retailers.